A New Look for Lode King
on , in
Company News
by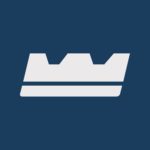 Introducing the new look of Lode King Industries. Offering subtle cues to previous generations of our logo, the new logo is bold, confident and progressive. The italicized, or slanted font carries over from the previous logo, which represents forward motion, a trait the entire team at Lode King tries to embody each day–to keep our customers on the road and to improve upon each trailer we make.
Finally, Lode King trailers wouldn't be the king of the road without the Lode King crown. The updated crown continues on in our new logo, in a simplified and more sculpted variation.
At Lode King, placing our logo on each trailer is not something we take lightly. It represents a high standard of quality–something that we take very seriously. We build our trailers with the same craftsmanship and attention to detail as if we were building them for ourselves. We like to say that we design smart and build with heart. Because at the end of the day, we never forget that every trailer has our name on it.